The Essential 2021 Sales Playbook for Hotels
Steps to Rebuild Group Revenue and Avoid Being Left Behind
Everything for hotel group sales has changed.

Great leads don't fall in your lap like they used to. RFPs aren't piling up in your inbox.

The good news is that in-person meetings and events are returning – in some markets even stronger than expected. Knowing what to look for, where the opportunities are, and who is most likely to book and when, will position your hotel ahead of your competition.
It's time to get moving! We've put together a complete step-by-step guide to help you rebuild group revenue.
Re-evaluate your goals and align your group sales strategy

Assess and re-engage your sales team for top performance

Leverage data tools to increase sales productivity and grow revenue

Identify accounts most likely to book your hotel

Implement new world prospecting best practices
Driving meeting and event sales in 2021 means working smarter, not harder… Are you ready?
Complete the form to gain instant access to the strategies and best practices designed for today's new hospitality sales environment.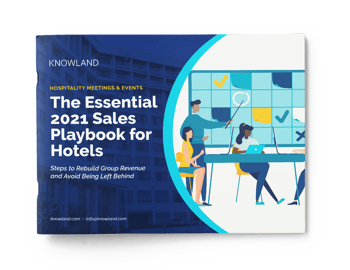 Follow us on Social Media: